The House is situated at the second floor of Palace Ruffo of Castelcicala. It offers a family ad friendly hospitality, the rooms are spacious, bright and airy, furnished according to an eighteenth-century style mixed to modern one. The rooms are all endowed with flat screen tv, air conditioning, private bath an wi-fi connection. In the B&B, there is a common living room and a lunch/breakfast room. For all the customers, there is a nice kitchen; it is an ideal B&b to spend your holidays and your job journeys in absolute convenience and relax.
The B&b Operahome is located in a strategic position, in the heart of Naples, in Via Foria, an ancient street that links Cavour' Square to Carlo III' Square. Next to the B&b, you can find: Archeological Museum (about 2Km), the Reale Orto Botanico (2,5Km) and The Osservatorio Astronomico of Capodimonte ( about 4 Km).
Direction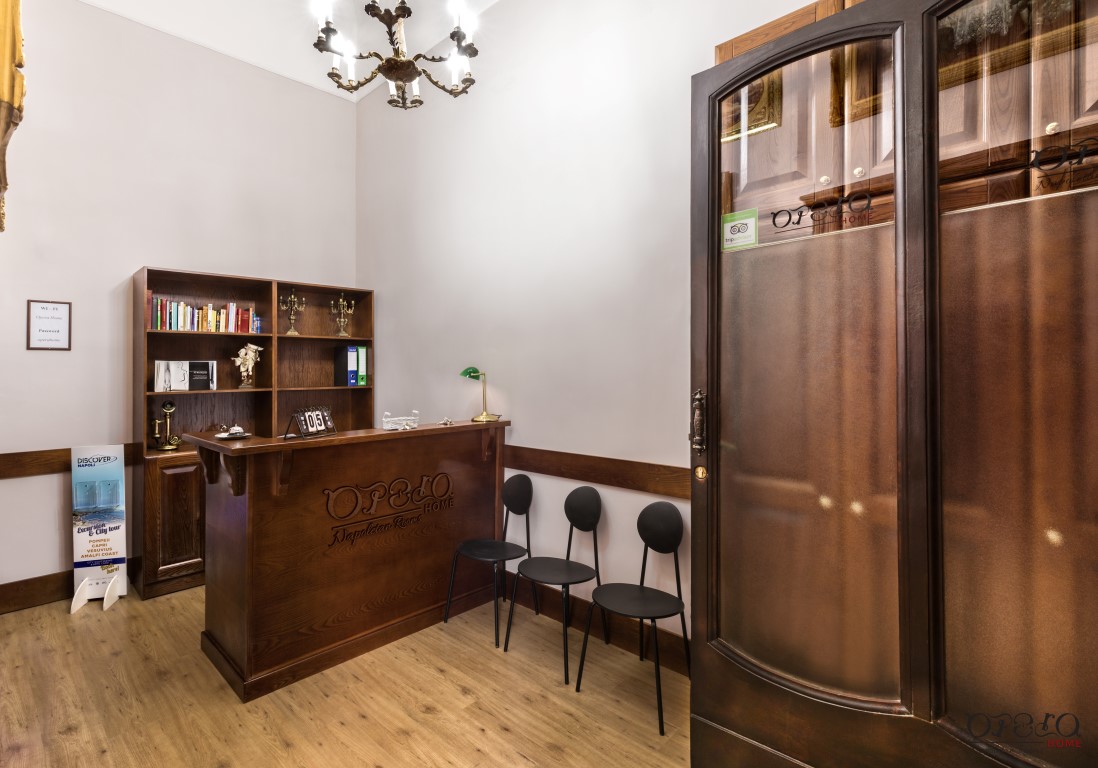 Reception Service
Qualified and specialized staff able to offer reception services and gatehouse with professionalism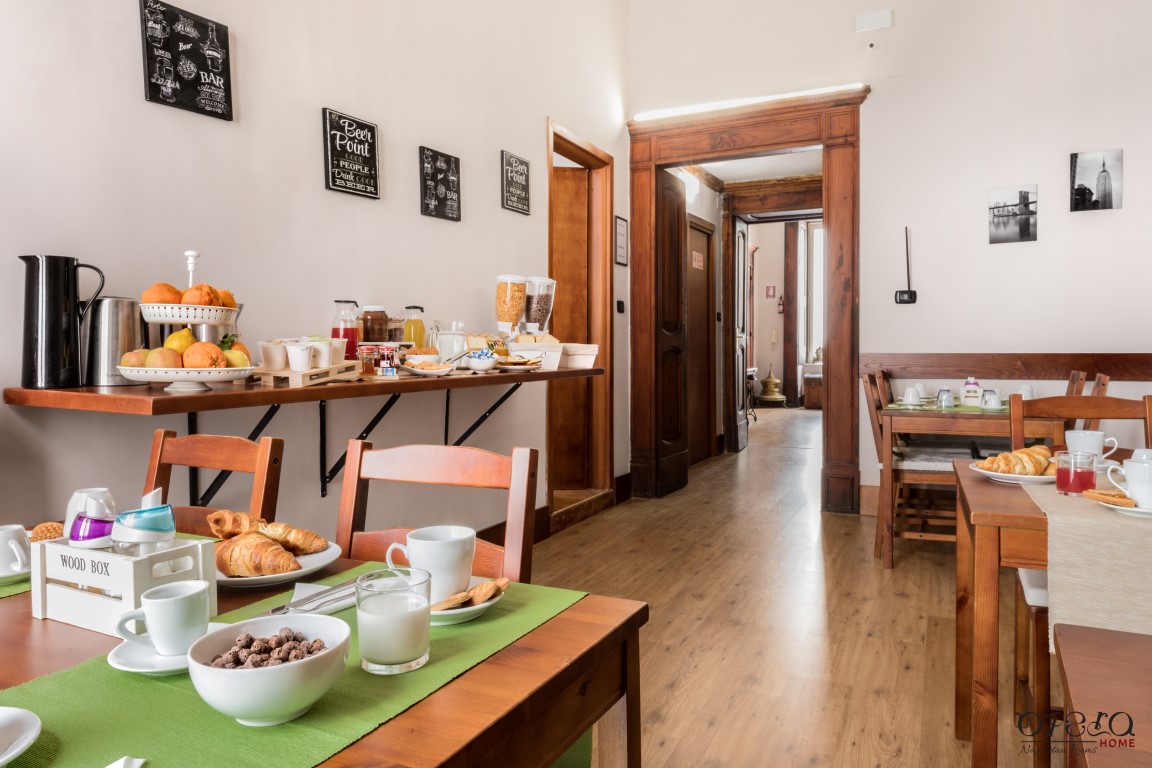 Breakfast service
A typical italian style breakfast with sweets, croissants, cakes, hot and cold drinks and an international breakfast too ( on request and upon payment).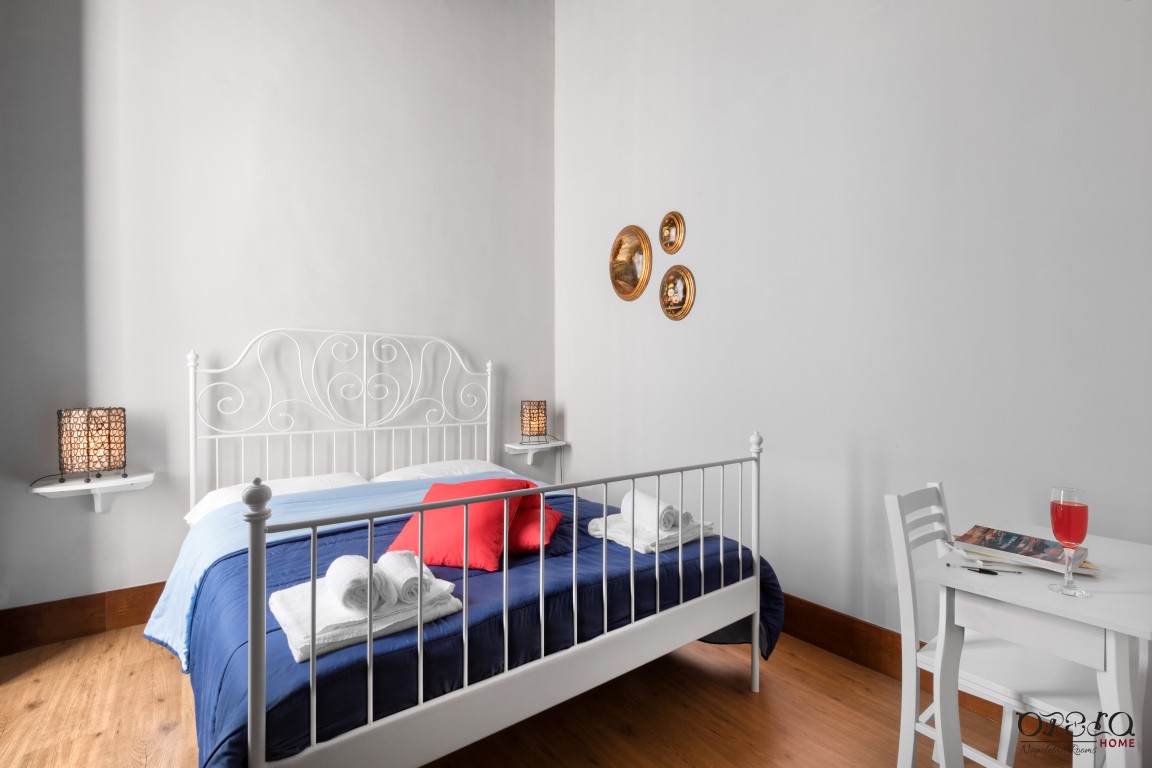 Rooms at the center
For a big and demanding family finely furnished rooms are provided with private bathroom, flat screen tv, room service, air conditioning, bathroom toiletries and hairdyer.
Surroundings
By a pleasant walk, you can reach the city area, built on the ancient walls of Greek-Roman Neapolis. There, you can admire Piazza Bellini, the heart of neapolitan artistic life, Piazza del Gesù, where you can admire the Cristo Velato and, Piazza San Domenico where, every year, thousands of tourists crowd the famous Basilica of San Domenico Maggiore. In few minutes, you can find the famous area of "shepherds", San Gregorio Armeno where, artisans, meticulously, create little statues of historic neapolitan crib.
Services
• Breakfast in the room
• Free Wifi
• Dining Area
• Private kitchen
• Service of beautician and hairdresser
• Baby Sitting Service
• Consierge from 8.00 a.m. to 8 p.m.
• Conventioned parking
• Luggage deposit
• Boat rental for private excursions
• Bike, car and motorbike Rental
• Shuttle to and from airport
• Private guides or group excursions
Position
Opera Home is located near the historic center of Naples and it is a great choice for travelers interested in churches, historic centers and art.
Close to the B&b, there are the underground line 1 and line 2. Garibaldi Central Station is far 2 km from the B&b.

About us
Elisa
Posizione comoda, personale gentile e disponibile, in particolare Silvia che si è dimostrata premurosa e attenta.
Silvia
Napoli è una bella città, la gente è disponibile e solare!! Ci torneremo sicuramente!! La disponibilità di Fabio e di Silvia nel soddisfare le nostre richieste è fantastica!
Karina
Good location, charming appartment, poor privacy and comfort. The building and the interior design is quite charming and unique.
Rossana
Proprietario gentilissimo e molto disponibile! La camera era enorme e anche il bagno di ottime dimensioni. Biancheria pulita ogni giorno e colazione abbondante.
Francesco Zuzolo
Più che buono
Adrian
Una experiencia para repetir. Lo mejor es la relación calidad precio, la ubicación es genial ya sea para salir a tomar algo como para hacer turismo.
Ivano Esposito
Prima di tutto la pulizia ed in secondo luogo la posizione. Al centro di Napoli ci ha permesso di muoverci come meglio credevamo, soprattutto a piedi.